Wholesale
Our wholesale program is all about partnerships, transparency and quality.
Contact Us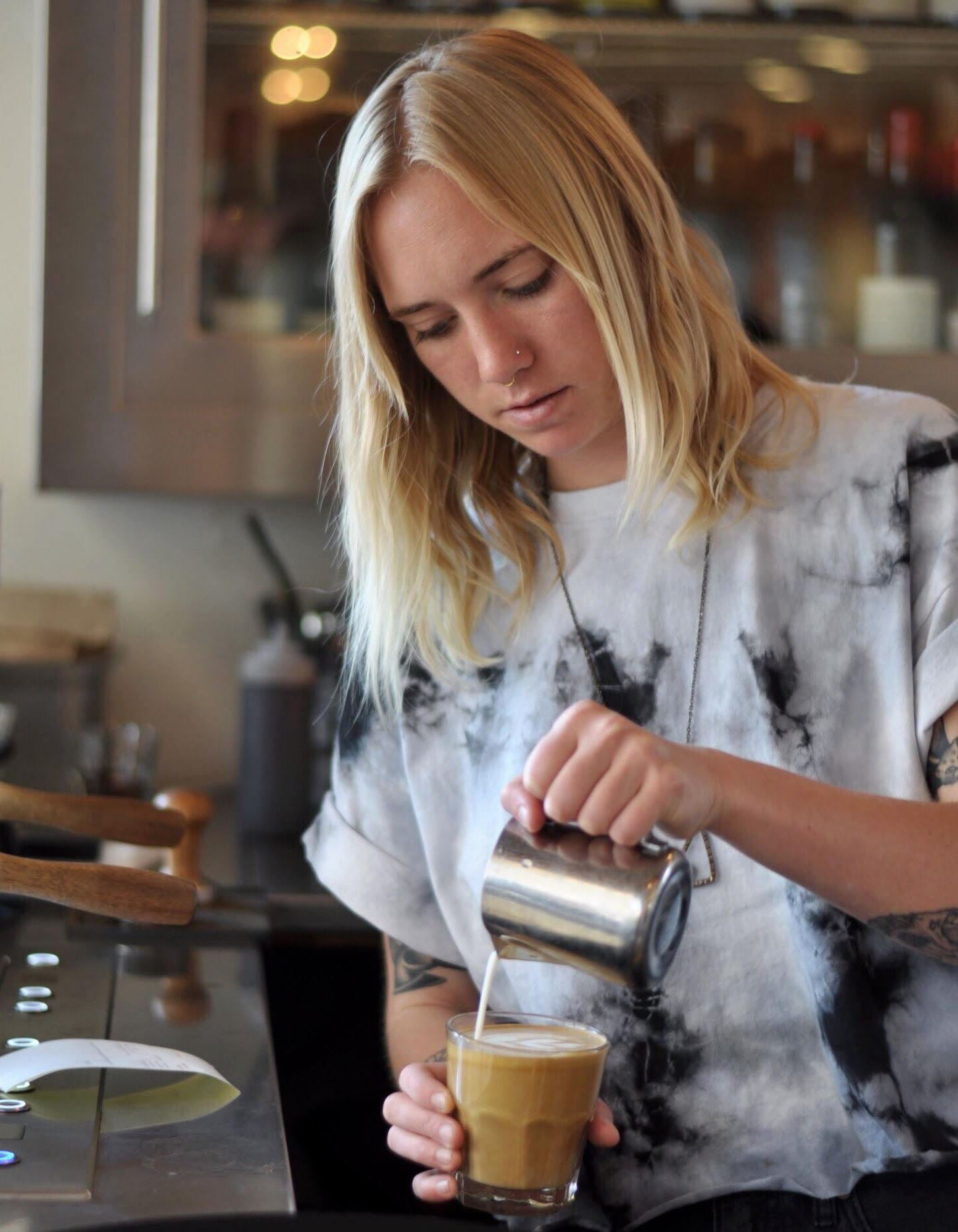 WHOLESALE PARTNERSHIP
After working closely with various coffee providers over the course of 15 years, Tartine Bakery wanted more from a wholesale coffee relationship. Coffee Manufactory was born from this conversation and a desire to exceed the traditional wholesale model. Our team is equipped with in-depth experience in sourcing, roasting, quality control, education and training, and retail processes across multiple, diverse geographies. It's our passion to help support businesses of all sizes and position their brands to deliver exceptional experiences for their customers.
HIGHLIGHTS OF OUR WHOLESALE PROGRAM
Collaboration and Partnership
Every business and coffee program is different. Having experience building coffee programs across all channels with award-winning chefs, innovative cafes, boutique hotels, as well as businesses like Facebook, Los Angeles Football Club, and Whole Foods Market, we excel at creating custom coffee experiences that cater to all budgets, menus, and visions. We work directly with our coffee partners, from conception to opening and beyond, every step of the way.
Direct Communication and Support
Our team is a constant, reliable resource to our wholesale accounts, including on-site support to daily communication and planning. From day one, you will have access to multiple staff members with expertise in areas like business development, design and buildout, staffing and management, equipment and training, menu development, marketing, and daily operations and profitability. We will set you up for success!
Highest Quality, Seasonal Coffees
With a menu of three blends and three single origins, our partners can trust that even the components of our blends are of the highest quality and purchased directly from our key sourcing partners abroad. We love to host tastings and share what makes our coffees characteristically round, sweet and balanced.
Our Sourcing Platform
Dedicated to fresh crop, seasonal coffees of the highest quality, Coffee Manufactory sets prices at the producer level to ensure transparency throughout our supply chain. By buying directly, 75% of the price we pay for green coffee goes directly back to the producer. Our sourcing strategy is currently being studied by the University of Michigan, SCS Global, and MIT-Solve, to help identify Key Performance Indicators that will support true sustainability at origin.
Hands-on Dedicated Training & Support
Our wholesale training and support teams are a diverse collection of talented coffee professionals that have highly experienced pedigrees and a passion for education. We believe training hands-on with your staff in their spaces is the most productive and effective for your business, and we not only introduce brewing and espresso fundamentals to get you started but continual, on-going training that improves even the most seasoned of staff. With access to our wholesale training & support staff 7-days a week, we work directly with management and staff to ensure efficient workflow, quality control of beverages, and consistent support for any challenges that may arise. We can't wait for you to meet our team.
Exclusive Equipment Pricing
Coffee Manufactory's intimate focus revolves around our sourcing platform and coffee quality. Because of this mission, we leverage our wholesale pricing on everything you might need to outfit your coffee program best, without a desire to make large margins on equipment that we sell. Even more, we work with our coffee partners to develop a custom equipment schedule that makes the best sense for their aesthetics, budget, and café vision.
Tech Support & Preventative Maintenance
Exclusive partners of Coffee Manufactory receive access to equipment tech support, as well as preventive maintenance packages that help monitor and minimize normal wear and tear of busy café settings on equipment. We are dedicated to working with certified technicians that have well-established track records of excellent customer service as well as equipment expertise. Part of our onboarding process will involve surveying your current equipment and setting our customers up with a dependable preventive maintenance schedule on all equipment. For new equipment purchases, we will recommend the best maintenance plan for your situation.
Exclusive Partnerships
As essential contributors to Coffee Manufactory's dedication to sustainable sourcing, our exclusive wholesale partners become eligible for additional programs like free shipping on coffee orders, vendor pricing on equipment, no minimum orders, access to tech support and group discount programs on key items like dairy and alternative milk purchases. Many of these benefits come from a simple desire to help small businesses grow and become as successful as possible.
Ability to Private Label
In certain cases, brands we work with love to create their own private label. We proudly support an interest in collaborative sourcing and roasting, extending exclusive pricing and design direction in creating your own private label Coffee Manufactory offering and packaging. Feel free to inquire about custom packaging and sourcing!
Flagship Roastery & Educational Campus
We are currently roasting out of Oakland and Seoul, while our Flagship Roastery in downtown Los Angeles is being built out. This space will also feature the first Specialty Coffee Educational Campus in the United States. Driven by the desire to establish a one of a kind educational hub, our flagship will feature a fleet of Probat roasters alongside a state of the art research and development lab, offering a full range of specialty coffee certification courses and events. Not only will we invite international roasters, speakers, and coffee research panelists, but we will also host educational seminars, coffee competitions, as well as collaborate with the Specialty Coffee Association on events. All wholesale partners will benefit from exclusive access, scheduled trainings, educational programs, and collaborative events held on our campus.